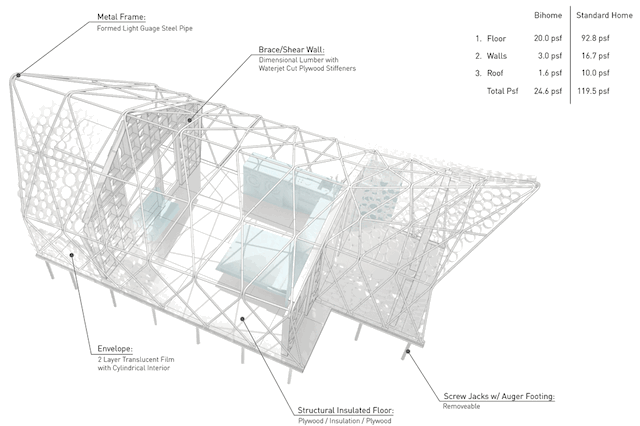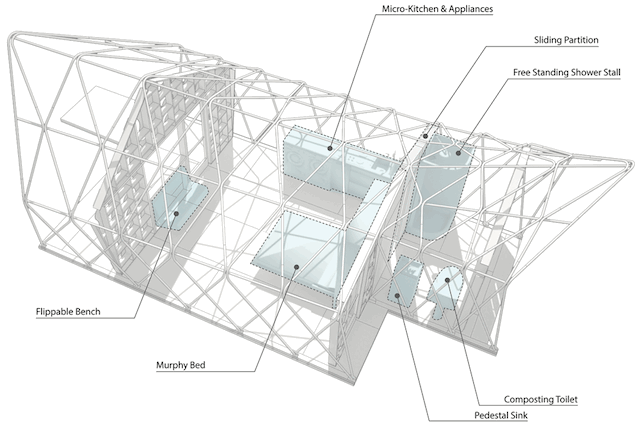 Backyard BIHOME
Developed as a prototype of cityLAB's Backyard Homes study, the Backyard BIHOME is an ultra-modern, lightweight accessory dwelling unit that has the potential to meet the current demand for 100,000 additional housing units in Los Angeles while also providing habitats for diverse species.
Read More
The BIHOME is flexibly designed to meet the needs of almost any household (housing for an elderly parent, a returning college graduate, a rental unit, etc.) while maintaining the benefits of of easy maintenance and affordability. The environmental impact of the structure over its entire life cycle is between ten and a hundred times less than a conventional auxiliary dwelling.
In addition to this, the BIHOME is designed to accommodate multiple species in several ways: at the base of the BIHOME, the rocks in a gabion wall provide habitat; one wall of the BIHOME can be configured as an edible garden; modular units can be added to provide homes for bats, bugs, or birds; and a grey water drainage system can water surrounding vegetation.
Press Coverage
UCLA Newsroom - A Cozy Backyard Home for People and other Friendly Species
KPCC - UCLA Responds to the Housing Crisis: A tiny, pop-up home for the backyard
KCRW - Could Affordable Eco-Housing Be in Your Backyard?
Detail Magazine Online - BI(h)OME
Archinect - Kevin Daly's Backyard BI(h)OME Provides Affordable Housing for Humans and Wildlife
The Architectural Review - Backyard BI(h)OME by a UCLA Studio Taught by Architect Kevin Daly
Dezeen - UCLA Research Lab Unveils Micro Dwelling Unit to Combat Affordable Housing Crisis
Interior Design - 5 Micro Houses Driven by Seriously Big Ideas
Curbed - Can This Tiny House Address the Los Angeles Housing Crisis?"
Treehugger - Students' Lightweight Tiny Home is a Biohabitat for Affordable Housing Crisis
Gizmag - Backyard BI(h)OME Shelter can Provide Affordable Housing in LA Gardens
Realtor.com - Solving the Housing Crisis in 500 (Adorable) Square Feet
Mother Nature Network - UCLA Students Design Backyard Abode for Birds (and Bees, Bats, and People, too)
Fiji Times - Tackling Housing Crisis
UC Berkeley College of Environmental Design - UCLA Responds to the Housing Crisis: A Tiny, Pop-up Home for the Backyard
Stad 11 - Ny Arkitektur Förändrar (in Swedish)
Architektura - BI(h)OME czyli tania i ekologiczna jednostka mieszkalna (in Polish)
Awards
Winner - Westside Urban Forum Design Merit Award in the category of Plans/Policy.
Finalist - Architizer A+ Awards in the category "Concepts: Architecture +Low Cost Housing."
Project Credits
Concept development and executive producer: cityLAB – UCLA, Dana Cuff, Jonathan Crisman, Carla Salehian, Per-Johan Dahl
Architect: Kevin Daly Architects, Kevin Daly, Peter Nguyen
Structural Engineer: Workpoint Engineering, Ben Varela
Industrial design: Kody Kellogg
Landscape design: Therese Kelly
Biodiversity and habitat: Jon Christensen, UCLA Inst of the Environment and Sustainability; Ursula Heise, English
AUD Student Team: Andrew Akins, Garth Britzman, Dee Chang, Katie Chuh, Ciro Dimson, Adrien Forney, Kara Moore, Dami Olufoweshe, Lyo Liu, Trenman Yau, Sarah Sibohan Johnson, Mark Lagola, Nawid Piracha Project fabricators: Julian Daly and Max Miller
Custom carpentry and woodwork: CA Construction, Carlos Grande
Envelope: Shrink Wrap Pros, Craig Keys
AUD fabrication Manager: Philip Soderlind
UCLA facilities management team: Leroy Sisneros, Coordinator, Erik Ulstrup
Pipe bending team: Blake Rainy, Carlos Rigual
Metal fabrication: Lorenzo Villanueva
Project Type:
prototype
Participants:
Kevin Daly Architects
A.UD students (see credits)
Timeline:
2015
Themes:
postsuburban city